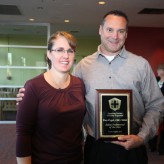 Dan has 20 years of experience in the field of personnel safety on construction sites, for the Utah Labor Commission UOSHA, and for law enforcement agencies. His construction projects range from $30 million to the 1.8 Billion SLCDA Terminal Redevelopment Program at Salt Lake International Airport. Prior to the airport Dan lead safety efforts for Okland Construction portion of the 2 Billion dollar City Creek Center in Salt Lake City, as well as Air Force Base facility projects at Nellis, Cannon and Davis-Monthan. He was also responsible for personnel safety for the Las Vegas Police Department and setting up law enforcement safety programs. Dan has spent hours training others in various aspects of safety and mentoring others as they start their roles as a safety professional. He is a graduate of Brigham Young University in the field of Health Sciences with an Environmental/ Occupational Health emphasis. Dan has been serving as ASSE secretary for the past two years and is on the planning committee for the joint safety and health conference which is held each October at the University of Utah.
Donors can establish a named academic scholarship or professional education grant fund through the ASSP Foundation. Scholarships and grants advance the safety profession and provide national recognition for the donor. The Foundation manages the administrative details of this program and works with the donor to provide qualified award recipients each year.
The WISE Mentoring program successfully connects today's most talented and experienced women mentors with rising and aspiring mentees. This pairing is designed to encourage and empower mentees to more effectively advance their careers through alignment with identified business objective, skill development, career option consideration, and network formation. All discussions are strictly confidential between the two parties. If you are an SH&E practitioner seeking to chart a successful career path or a seasoned pro eager to share experiences and insight, please visit the ASSP WISE website for more information.